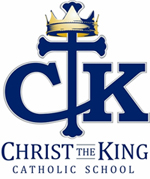 Christ the King Catholic School has served the Eastern Shore of Mobile Bay for 60 years. We are committed to providing an excellent education with a strong emphasis on spirituality and Christ-like behavior. We strive to prepare our students to be responsible, informed, capable and active citizens of the 21st century.
Christ the King Catholic School is dedicated to fostering the spiritual, cognitive, social, emotional and physical growth of our students. We accomplish this by providing a loving, nurturing, stimulating, and safe environment where students are encouraged to explore and question as they discover their strengths and talents, and appreciate the same qualities in others.
We provide sound academic preparation and a curriculum intended to help each child grow and develop as a responsible, competent, confident person with self-discipline, and a commitment to the principles of justice and peace.